Designer House Carpe Diem
Sustainable solid wood house offering perfect relaxation, high-end furnishings and a cleverly designed layout.
more info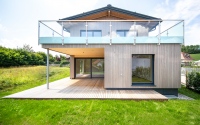 For the love of real estate.
Finest Homes - your first point of call for luxury real estate in Salzburg. 20 years of experience, excellent service and a keen appreciation of the extraordinary are our strengths. Your dream of luxury is our passion.